About This Tenacious Momma
Welcome to my life blog and I am thrilled you are here!  Having survived childhood, parenthood, widowhood, adulthood and experiencing menopause has had it's challenges.  I want to share my life experiences that developed my tenacious spirit with you in hopes of providing encouragement.  Some of my experiences have been hilarious and sometimes not.
In searching for life's answers,  I have found there is too much judging of others that takes place.  This is a no judgement zone and I want people to be able to express themselves and not be judged.
Parenting an ADHD/ODD child is one of the toughest parenting challenges ever.  On top of daily life, it can be extremely overwhelming.  You are your child's voice and you need to educate yourself on what is best for your child and your family.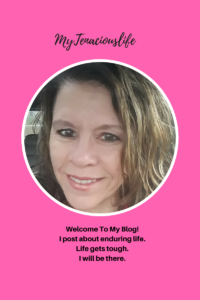 The Making of This Tenacious Momma
Not having a mental health degree and sharing my "real life" experiences is what enables me to offer a unique environment on my blog.  Surviving a childhood of abuse from a bi-polar mother made me tough.  I realized early on in life what I didn't want to become.  I was one of the lucky ones that took a different path in life.
Figuring out how to survive the challenges in life without having that mother-daughter bond had left me broken.  I had to seek  out the wisdom of others  in order to learn.
Having adult ADHD  I understand the struggles and stigma of ADHD.  I have learned to accept my challenges and figure out ways that are best for me to cope.
My Mission Statement
Eleanor Roosevelt stated:  "No one can make you feel inferior without your consent."  Her mantra has given me tremendous strength over the years.  People will tear you down if you let them.  My blog is to share what I have learned with others.  In order to develop a tenacious spirit, you have to develop a strong internal instinct and learn to listen to your strong inner voice. Learn to trust yourself.
I hope this blog becomes a place of inspiration and hope for you.  As you search my blog, please share  what struggles you have faced and how you have coped.   We  need to hear each others' stories.
Don't forget to sign up on my e-mail list to receive for 7 Daily Motivational Quotes!