Moving Forward
Whenever I feel myself slipping back into depression, I start curling up in my handmade fleece blanket, Netflix binge and stay put.  Even if the sunshine is out.  Anyone who knows me knows that I adore the warmth of the sun. In fact, it's the favorite fun thing for me to do.  Dozing off on a lazy afternoon under the sun, with a glass of wine in tow, is the ultimate!  I live for the summer months and lounging at the pool.
Shortly after my husband died, I was in bed on a sunny Sunday afternoon when my son came into the room.  "Mom, it's such a nice day outside, why don't you go outside for a while"  is what made me get out of bed that day.  What my son said that day remains in my heart.  If I have start falling back into the depression pit, getting outside with one of the dogs is one of my fun things to do.  Simple and refreshing, no matter what the weather.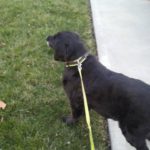 One Step At A Time
Patches is the most energetic of the two.   She knows my routine when I am getting ready for us to leave.  Jumping and barking, I would not be able to leave the house alone.  She knows.  This alone is both fun to me and annoying.  With each step forward, so is each layer of depression lifted.  During my years of walks with her, I have cried, laughed, and figured out some of life's problems.  As I watch her enthusiasm of being outside, I crank up my Amazon Music louder, get moving myself and get those Fitbit steps in.
How Do You Move Forward
Do I always follow my advice?  No.  I have learned that sometimes, it's ok to comfort yourself.  Sometimes, you just need to cry, be left alone, and curl up with your dog.  The important thing to remember is to not let this become the norm.  Comforting as this is, it's not good for you mentally.  It's been a long road of setting boundaries for myself.  One of the best I have learned from is Mel Robbins.  You can watch her You-Tube video here which has over 12 millions views, on how to get going.  I truly wished I had found her years ago.
How do you make yourself move forward?  I would love to hear what you have been experiencing and what has worked for you.  Be Tenacious.  Get Moving.
Please follow and like us: