My Birchbox versus Julep HONEST Product Reveal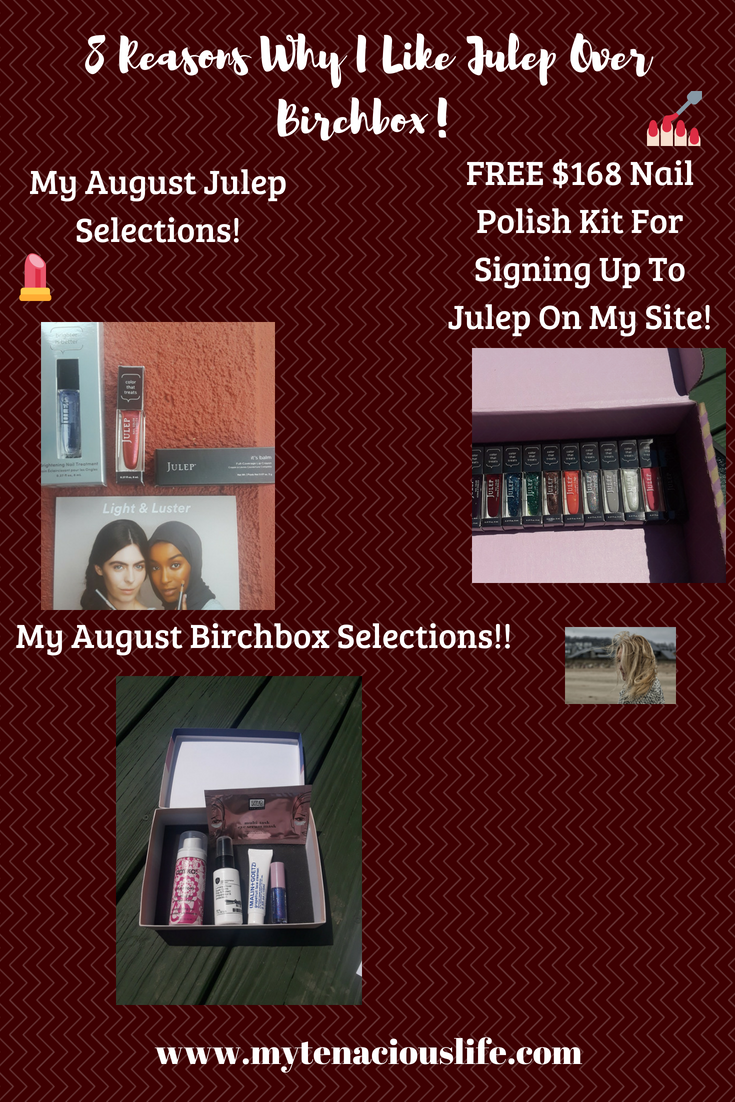 After receiving the August Birchbox samples and Julep products, my intention was to have my Birchbox versus Julep product reveal posted by mid-August.  Well, now it is August 30th and where has the month gone?  This is exactly what I was referring to in my post HERE of my intention to not procrastinate.  However, in my defense, the ONE thing I have kept up and been more intentional with in listed in my post HERE
Getting up by 4:30 a.m. Monday through Thursday to attend workout classes then working on my blog the hour or so before work, has left me exhausted the past few weeks.  But I have not quit!
Coming home from work, taking care of the house and trying to prep for the next day (if I was super energetic when I got home that day!) working on my blog at night, the month has flown by.   Without further ado, here is the Birchbox versus Julep product reveal!
Birchbox August Box Reveal!
Joining Birchbox, I liked the idea of sampling products and wanted to give this a try.  It was just $9.99 per month!  What could be better?   The next year, I took advantage of paying for an annual membership and getting three months free for my second year of Birchbox samples.  As most of us can appreciate, I am all about the FREE stuff!
Birchbox gives you an option of:
Purchasing their curated box of the month or picking a "sample" box of the month from products of their choosing.
Shipping and handling are free.
You receive a follow up e-mail by the 24th of each month to pick either the curated box for product samples of their choosing and you can also pick one item from the list of samples of their choosing.
In the second year of service, they offered 3 months free if you paid for an annual subscription.
As time went on, I began to notice that I started receiving the same samples several times.   Samples sizes are just that:  samples for at least one application, two if you are lucky.  Shopping in public is not a favorite of mine so this still gave me a chance to experiment with "real" products that I wanted to try.
For August, I received the samples provided in the picture.  Dry shampoo, facial cleanser, a makeup type sponge, a hair product and lip gloss.  When I first looked at the purple glitter lip gloss, I thought, "What were they thinking?  Didn't they read my profile?  I am a 54 year old woman that's going to wear purple lipstick?"?  I was NOT HAPPY!!  However, I did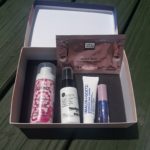 try it and even though the color is VERY purple in the tube, it doesn't appear that way when applied.  Actually, I received a few compliments on my "new" color!
Birchbox does provide the option to purchase other products at a reduced price but personally, the products are too expensive for me to purchase on a routine basis.
Julep August Box Reveal
How did I hear about Julep?  My boyfriend has a daughter named Alex and while rifling through her cosmetic stash, I noticed her nail polish and fell in love.  Shortly after, I started noticing these awesome looking skincare products!  Asking Alex where she was getting these products and the prices, she then told me about the Julep Maven monthly plan!
That night, I researched Julep and decided to give it a try and I have NOT been disappointed!  Here is what I LOVE about Julep:
 The monthly service is $24.99 a month or $19.99 a month with a prepaid plan.  Yes, it's $10 more per month than Birchbox but it is worth it to me to get full-sized products!
 Shipping and handling are free.
 You need to make you selection by the 20th of each month and you get an e-mail follow up reminder.
 You can skip a month if you want to.
 You can also donate to a friend for a month (or more) if you want!
 You can swap out the products if you don't like the curated box of the month with products of your choosing!
 When you sign up as a new customer you receive a FREE nail polish set worth $168!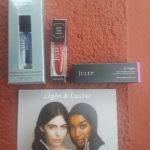 Full sized products!  When I made my selection in July for the August box, I noticed several products were gone already!   This made me aware I needed to put the date of the 20th in my phone so I won't miss out!
There is also a coupon code to receive 25% off any additional products you order! (Remember ladies – it's all about the FREE stuff!!  You can sign up HERE!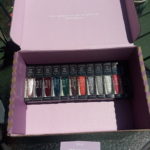 I was so impressed with Julep, I signed up to be an affiliate with the company!  Have you tried a monthly service product? Please comment and share what your experiences have been.
Please follow and like us: