My Friend And Chemo – Round Two
Since my last post about my friend who found out her cancer has spread, it has been a whirlwind.  When we heard this news  a few of us got together for  an outing  to lift her spirits and you can read about our day out HERE.
Lidia makes us laugh.  One of the things we have grown to love about her is the way she says "I as in ice-cream" in her Bulgarian accent when confirming the letter "I".  Hence, we decided to surprise her with an impromtu ice-cream party at work.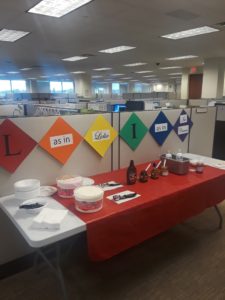 The good news is that the cancer hasn't spread to her brain.  A trial drug was started few weeks ago.  Since then, I have watched my friend suffer from the side effects greatly.  She has shivered uncontrollably from being cold.  Her fever has spiked at times to 103 and 105 degrees.  She is tired, has headaches, and her face has broken out in red blotches.  Her hands shake as she types.
Watching The Tenacious Fight
As we have watched the side effects of the new drug ravage her body, we have covered her with blankets, brought her soup and heat packs.  We have hugged her and cried for her.  Throughout all of this, she shows up to work every day and maintains a positive attitude.  At some point, she may have to take a leave of absence until her body adjusts.
This is what being tenacious is all about.  Not giving up.  Hanging in there.  Embracing life.  For now, I don't share my life frustrations with her.  My issues are small potatoes compared to what she is going through.
For now, I will continue to loom knit the scarf she asked me to make for her.  Next, I will start loom knitting my first pair of fingerless gloves at her request.  Apparently her Bulgarian mother used to knit and make her things.  Knitting for her lets me feel like my homemade gift is something from her mother, thousands of miles away.
Is there someone in your life you are witnessing fighting a struggle in their life? Maybe it's you.  Please comment and share with me.