What does being a caregiver mean?
A father in the neighborhood has recently began taking his quadriplegic son out to enjoy the sunshine.  This is the first time I have seen them outside in years, except for his son being lifted into a handicapped bus for school, therapy or doctor's appointments as his dad looks on.   The story in the neighborhood was that the mother left after her son after his birth, leaving the father to care for his son alone.  Seeing them last night brought back a flood of memories when I was a caregiver and what our family went through.  I have not spoken any words with this father yet and I already know his character:  he possesses good will,  has a kind and gentle heart and is filled with an immense love for his child that can't be broken.
Being a caregiver is tough work.  It is not for the weak and many  choose to leave their spouses, children and parents when faced with the demands of the unforeseen challenge.  Not everyone is cut out for what they are about to experience in this new stage of their lives.   The couple at the alter reciting their vows, "For better or for worse; in sickness and in health" are not aware of the seriousness of the meaning behind those vows until they are later tested.  The hopes and dreams of what we had for not only our future, but for the future of our children, spouse, sibling or parents is forever changed when a unsurmountable medical crisis has happened.  Now your wants and needs are put on hold in order to be a caregiver because you are a person of substance and fulfilling your vows.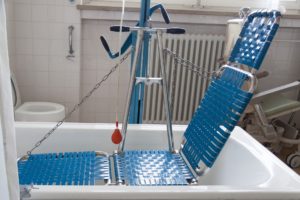 For a parent, this could mean instead of crying at the bus stop as they witness their child going off to kindergarten taking that brave first stage of life, somewhere a parent is crying because they will never get that experience.  For a married couple, instead of enjoying the craziness of parenting and everyday life, they are having to make adjustments to their home in order to provide necessary accommodations for daily living.  It also means adjusting to living on one income as the medical bills rise.  It can also encompass becoming a single parent and learning to deal with a new set of of obstacles.  As I dealt with these tremendous changes in my life, I stayed in "fight or flight" mode for a long time.  When your life hangs in the balance each day you just want to get through a day, an hour, or a minute.  Yes, people admired my tenaciousness but it wasn't until much later that I realized the toll it had taken on my mind and body.
I would  often go to my doctor for severe tension headaches, TMJ, GERD, IBS, strained muscles, anxiety, depression, a slipped disc in my neck, lower lumbar strain and extreme fatigue.  They would do tests and blood tests and it amazed me when they would come back normal compared to how I felt.  I have been now been diagnosed with fibromyalgia which describes me perfectly how I have felt and explains the loss of my drive these past few years.
I now practice self-care as much as possible.  At times, I now rest and sleep like never before.  Before, I didn't have the luxury of taking a nap, taking a bath or bingeing on Netflix.  All of which I do now without guilt and it's become an absolute must.  I feel like I have done my time.  I held up to my end of the bargain.  I would feel guilty if I did any of these things before.  And why is it that when mom is alone in the bathroom for an extended period of time, it causes a great deal of chaos if we are not instantly accessible?  I love the picture below of the lady taking a bath and reading a book and making sure she has enough hot water.  This is me now and I don't regret it.  I have paid my dues and I am at a time in my life where I have made it all about me and it's ok.  I have learned to set boundaries and to not care what others think of me.  I listen to my intuition and do what is best for me.  I have learned to my give my time and myself to people who don't appreciate it.  My time has become way to valuable to me.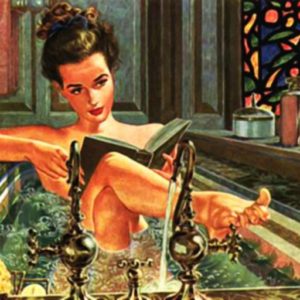 Are you a caregiver?  How have you coped?  I would love to hear about your tenacious experiences.   Please share.
Please follow and like us: